Thank you to all the killjoys that submitted entries for the Killjoy Jacket Design Contest! There were hundreds of submissions and the quality of the entries and the amount of effort everyone put into the designs was overwhelming. Here are the winners:
Grand Prize: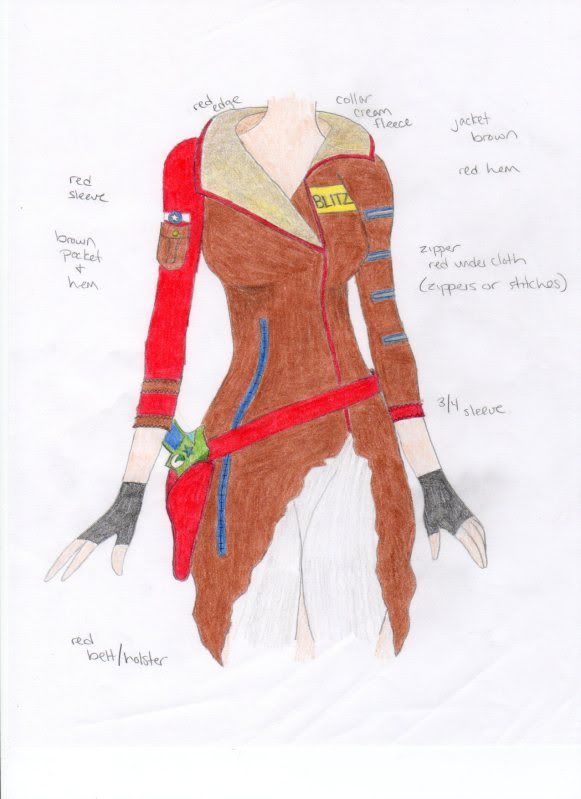 by. WolfMistress This jacket is for my killjoy persona, Bella Blitz. The images are my original sketches (notes and scribbles included), and I did a front and back view. Basically in deciding ideas, I went with a play on words from the name Bella Blitz and used the idea of "blitzkrieg," or "an intense military campaign intended to bring about a swift victory" which seemed highly appropriate to the idea of a killjoy. So for the design, I made the style like a bomber jacket (my steampunk influence) with 3/4 sleeves to be a little different. The back has a bomber plane itself and bombs dropping from it in multiple colors. I went ahead and included a belt and raygun to complete the look, so creating my gun will be the next step! :)
Runner Up #1:
by. Scrumtrulescent I chose a mouse with a gas mask for the back of the jacket. Reflected in the eye's of the gas mask is a mushroom cloud. This cloud represents the massive amount of toxic bullsh*t being released daily. On the bottom of the gas mask are the letters MCR. The gas mask represents, well MCR, for giving us protection from the toxic sh*t by being true to themselves and art. The left arm badges are allegiance and zone badges. The right chest badge is the confirmed kills badge.
Runner Up #2:
By. ViennaKiss While killjoys are in 2019, my love of the band & The MCRmy made me make my Killjoy Jacket a bit of MCR history. I tooled the leather with the old school MCRmy logo, the Widow, & my MCRmy name...I added bits that represent pieces of MCR lore: Japanese flag to represent 'SING', a little painted plastic "soldier" that one of the MCRmy kids gave to me, the pins for "I'm Not Okay" and "let's" "dance" (homage to Bowie), the armband--the new version of the old Revenge era armband, etc. I am very thankful that G, Mikey, & Frank were gracious enough to autograph the back for me...and appreciate The MCRmy so much.